What is the biggest segula to find a shidduch and have a happy marriage?
Helping others get married!
2 WEDDINGS IN 3 DAYS! MAKE IT HAPPEN!
​
UPDATE DEC 19 2019: HEAR RABBI VAKNIN THANKSING AND BLESSING THE CHESEDFUND DONORS AT HIS DAUGHTERS WEDDING
see the couple under their chuppah:
THEY STILL NEED YOUR HELP! AS THEY HAVE NOTHING TO START THEIR LIFE WITH! HELP US REACH OUR GOAL AND PROVIDE FOR THEM THE BASICS!
​
UPDATE DEC 18 2019: WEDDING OF S.F. AND FAMILY. LAST NIGHT THE HACHNASAS KALLAH FUND WITH YOUR HELP TOOK PART IN THIS GREAT MITZVAH OF MARRING OFF A YOUNG COUPLE IN JERUSALEM.
HERE'S A PICTURE FROM THE CHUPAH (FACES BLURRED FOR PRIVACY CONCERNS):
THURSDAY NIGHT DEC 19 2019 ANOTHER CHASSAN AND KALLAH DEPENDED ON US!!! WE MUST MEET OUR GOAL AND GIVE THE NEWLY MARRIED COUPLE A COMFORTABLE BEGINNING!!!
the invitation:
THIS COUPLE DESERVES AT LEAST THE BESICS! WE CAN'T LEAVE THEM WITH NOTHING!
TRY THIS TESTED SEGULA-
How much did you / would you pay for your own sons/daughters wedding... Put aside just ten percent for a couple that can't make it to the chupah due to financial difficulties, you and your children will have a peaceful home full of healthy joyous children and parnassa, you take care of Hashems children and Hashem will take care of yours.
SEE THE HASKAMOS OF THE RABBANIM BELOW: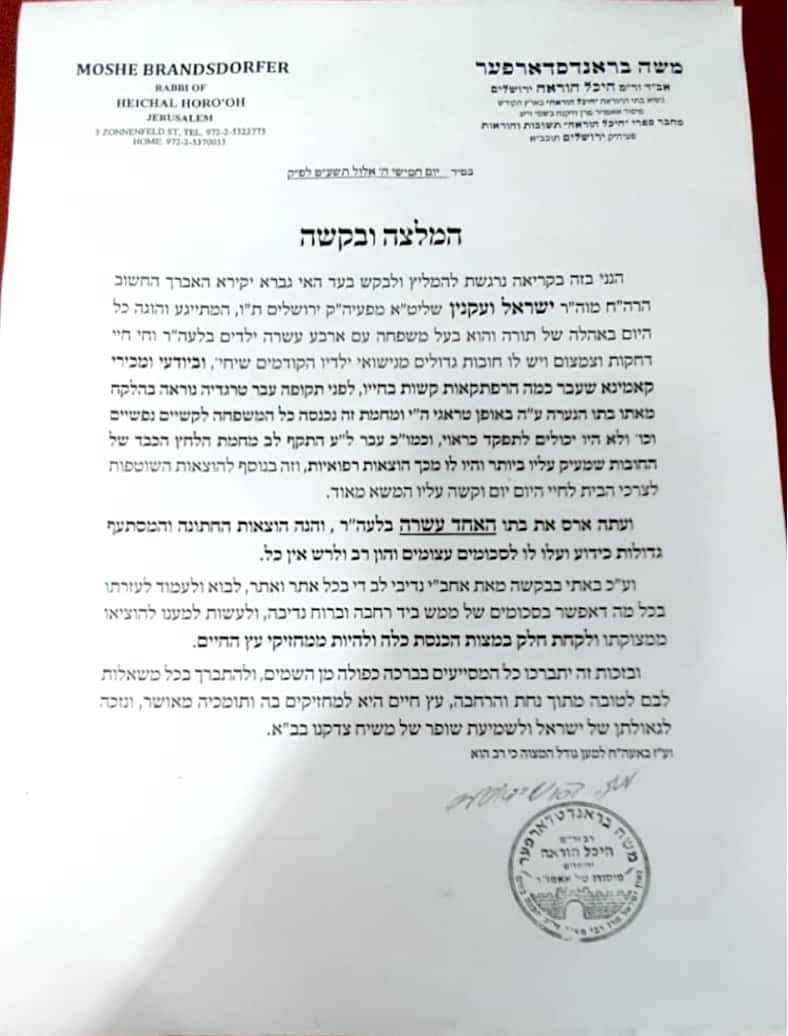 Watch the fathers plea in the video above. This is his 11th child marrying off. He's a Rebbe in Yeshiva and barely makes ends meet. For each wedding he needed to take out a loan from bank and private sources, now he's in so much debt that no one want to lend him anymore.
THE STRAIN WAS TOO MUCH THAT AFTER LAST WEDDING HE HAD A HEART ATTACK!!!
PLEASE let's help him make it through this one in better shape.... IT'S UP TO YOU AND ME!!!
--------------------------------------
Do you know how many more kallah's and chassanim are waiting to get married in Jerusalem?
You will be shocked when you see today's situation with your own eyes. Families living way below the poverty line with large families are forced to go into deep debt for the basics to marry off their children. And we're not even talking about paying for rent for the new couple. Even the basic hall expenses are too much for them to handle. And at a certain time the gemachim can no longer extend a credit line.
The Hachnasas Kallah Fund from the Jerusalem Charity organization set their goal to marry off 250 Kallah's for the modest cost of $4000 each (that's $1 million!). Before each upcoming wedding we will upload the wedding invitation and a little bit about the background of the family that don't have the means to make the wedding.
​
Take part in this tremendous mitzvah. As Chazal say "The poor of Eretz Yisrael precede all other causes." And there is no mitzvah like the mitzvah of Hachnasas Kallah.
A few sources from Chazal about he mitzvah of Hachnasas Kallah:
דאמר רבי אלעזר: מאי דכתיב "הגיד לך אדם מה טוב ומה ה' דורש ממך כי אם עשות משפט ואהבת חסד והצנע לכת עם אלהיך"? "עשות משפט" - זה הדין, "ואהבת חסד" - זו גמילות חסדים, "והצנע לכת עם אלהיך" - זו הוצאת המת והכנסת כלה לחופה.
מעשה ברבי טרפון שישב ושנה לתלמידים ועברה כלה לפניו, צוה עליה והכניסה בתוך ביתו ואמר לאמו ולאשתו רחצוה וסכוה וקשטוה ורקדו לפניה עד שתלך לבית בעלה.
Due to the importance of this mitzvah, and the real stress on the parnasa of the young, newly married spouses, Jewish communities throughout the ages have focused on institutions and charities dedicated to this specific purpose. The Jerusalem Fund is walking in their footsteps.
How much do you/ would you spend on your weddings? Are you willing to give just a small percentage as a segula for finding a soulmate, having a happy marriage, children and money to support them?
PLEASE DONATE TODAY AND ALLOW THE NEXT KALLAH A SIMPLE BUT RESPECTFUL WEDDING.
COME BACK TO THIS PAGE REGULARLY FOR UPDATES AND SEE THE JOY YOU BROUGHT TO PEOPLES FACES
​
Letter from father S.F. who married off his daughter with the help of Jersalems Hachnasas Kallah fund:
​
To my brothers, among the Jewish people,
I'm turning to you for help and assistance, merciful ones, and doers of kindnesses.
Baruch Hashem, I have merited to have a family of 11 children.
Around 10 years ago, my wife, may she live, was hospitalized in the isolation ward when she came down with a very serious case of what was called the 'Mexican Flu'. A week after this, my wife gave birth to our sixth daughter – but she was born unconscious and without a pulse, according to what the doctors said.
After an hour, they managed to revive her, and we accepted her as a beautiful free gift from shemayim. After a few weeks, she was released from the hospital, but her development was extremely delayed.
Today, Baruch Hashem, she's at the stage where she can be in special education stream embedded within in a regular school, but the situation continues to be financially very draining.
We are doing our best to meet our financial obligations, while maintaining our obligation to learn Torah, and my wife in particular has always worked so hard to go out to work, even in the toughest times, to try to feed our large family, Baruch Hashem.
Now, thank God, I have merited for my daughter to merit to get engaged to a fine young man, a Torah scholar with yirat shemayim.
And so, I have no choice but to turn to you, my holy, merciful brothers, so that my daughter can be married off without shame, and without feeling that she received less than her friends. Because as you know, it's forbidden to take out a loan that you have no way of repaying.
And may it be our Heavenly Father's will that He will pour upon you tremendous shefa _without end, and that you will see tremendous _nachat ruach, _in holiness, from all your descendants, and that you will be able to educate them, and raise them to the _chuppa, without any sorrow or suffering of the soul.
Awaiting the salvation of Hashem,
S. F.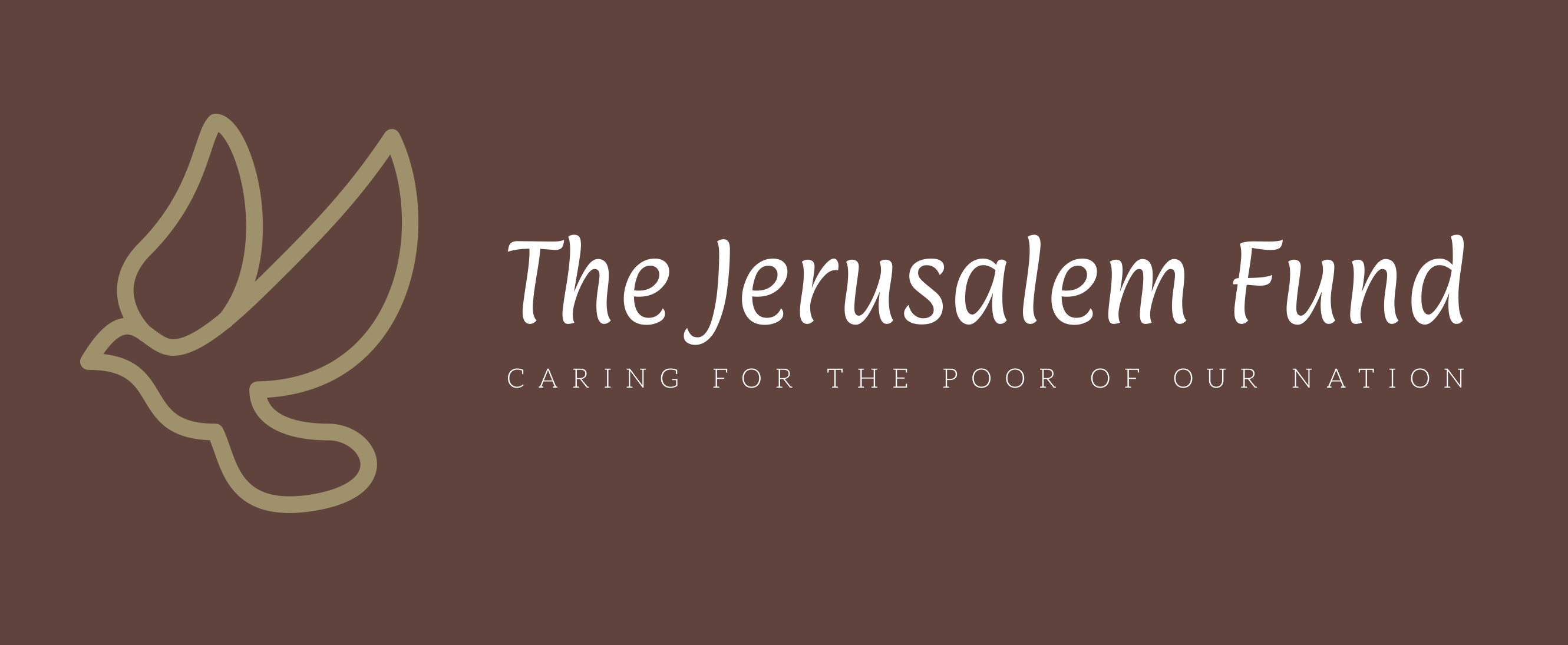 ​