Beyond Tragic
We are appealing to you on behalf of the suddenly orphaned Halbrecht family. The situation is beyond tragic and heartrending. Eliezer Halbrecht, age 33, passed away. His wife, age 32, was left alone with 7 children, the 2 youngest only 8-month-old twin boys.
They are left now alone.
We can't return their father, but we must step in as breadwinner so she can feed her orphaned family.
Eliezer, a Kollel yungerman, was always happy with his lot. A few months ago, he took on side jobs, so his wife could give up her job as playgroup assistant and devote her all to the young twins and the other little 5.
We need you to step in now to save this family from falling apart!
Sponsor a wedding of a child, a month rent or a breakfast. By this end of the Shiva we MUST have one million dollars for the family.
The Viznitz Rebbes Shlita are calling to every family to contribute at least $500 to ensure the young widow and her family don't fall apart from lack of financial means.
All donations are tax deductible. The Viznitz Rabbis of USA Shlita are personally in charge of the money, and prominent businessmen are managing it. Please step in now!!
You can make checks payable to: Desha Foundation Tax ID: 82-4709028 Mailing address: P. O. Box 861 Monsey NY 10952
​
​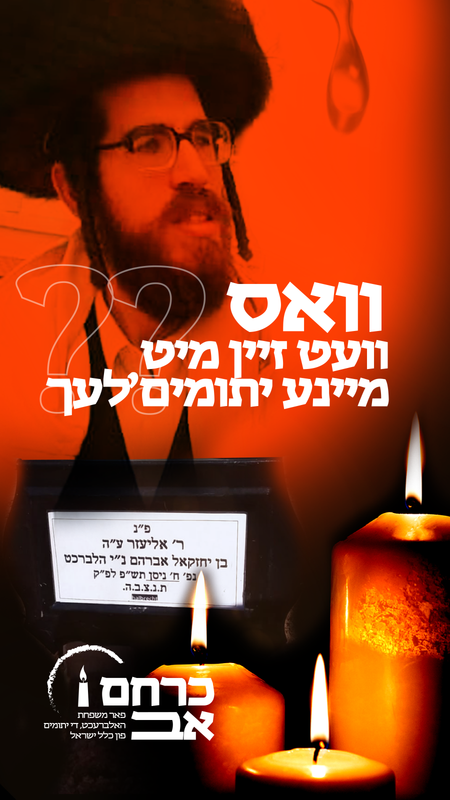 ​
טראגעדיע
שאק און שוידער! אליעזר האלברעכט, א 33 יעריגער געזונטער יונגערמאן איז אוועק פון "קאראונע".
"איך דארף גרויס רחמי שמים!" האט די צושאסענע אלמנה געזאגט עטליכע שעות פאר'ן באקומען דעם נייעם טיטל – האלטנדיג די קוויטשעדיגע קוים געבוירענע צווילינג אויף די הענט, ווען נאך 5 עופה'לעך קלאמערן זיך ארום איר.
דאס ערגסטע האט ליידער פאסירט. דער געטרייער מאן און טאטע האט אויסגעהויכט זיין לעצטן אטעם.
אליעזר האלברעכט... עליו השלום
זיין בא'חנ'טע שמייכל איז לעצט געזען געווארן מוצאי שבת ויקרא. הצלה זאגט די שווערע אטעם איז נישט פשוט... ר' אליעזר בארואיגט די 7 קינדערלעך, טאטי פארט מיט א לעלא… און קומט באלד אהיים.
עטליכע שווערע טעג אריבער, און ויהי ביום השמיני, ח' ניסן אינדערפרי איז טאטי אהיים.
"עס איז נישט טאטי!" שרייען די יונגע קינדערלעך ביים קאסטן איבערגעצויגן מיט'ן שווארצן ליילעך. "שעפעלע," שטיקט זיך דער זיידע, "דא ליגט טאטי. מ'קען נישט אויפמאכן די באקס, טאטי קען נישט ארויסקומען. דיין רבי קומט אריבער אויסלערנען יתגדל ויתקדש שמיה רבה."
די צארטע אלמנה האט באקומען די אויפגאבע צו דינען סיי אלס טאטע און סיי אלס מאמע פאר די פרישע יתומים. וועט זי חלילה אונטערברעכן אונטער די געלט דאגה?
איז די הערליכע משפחה געענדיגט?
מינוטן נאך די שאקירנדע פטירה, האבן געטרייע עסקנים, ידידים און משפחה, אונטער די פערזענליכע אויפזיכט פון כ"ק מרנן האדמורי"ם לבית וויזשניץ שליט"א, און מיט די פירערשאפט פון א וועד פראמינענטע בעלי בתים, געגרונדעט א קרן יתומים. דער ציל - עס מוז געשאפן ווערן די "פולע סומע" צו דעקן די טאג טעגליכע קאסטן, שכר לימוד, דירה און עווענטועל בס"ד חתונות. דער מינימום איז א מיליאן.
כ"ק מרנן האדמורי"ם לבית וויזשניץ האבן נאכגעפאלגט מיט א הייסע רוף, "כאטש $500 פאר יתומי האלברעכט!" אינאיינעם וועט כלל ישראל דעקן די משפחה "כרחם אב!"
ר' איד, נאר אינאיינעם מיט אייך! געבט, און שרייט צו אייערע חברים, אידן, האט רחמנות כרחם אב - ראטעוועט!