24 HOURS REMAINING: Help Rav Stern Shlit"a Save 11 Families From Starvation
$8,837 of $30,000 raised
raised by 267 people in 5 months
Donate
Verified campaign
Campaigns bearing the verified badge have submitted documents testifying legitimacy of their cause. The Chesed Fund has vetted these documents as authentic.
Shlomo* worked hard at his construction job to support his large family. He left each morning before the sun rose, and got home each day in the evening. As the hard work wracked his body, he told himself, 'I'm doing this for my wife and kids.' And for the little time they had with him each day, they were happy. Until, one day, Shlomo collapsed on the job, and the world faded from his view. His wife Rivka* sobbed as the doctors told her the news: He had had a stroke, and was in a coma. In the months that have passed, they have run out of money. The kids eat plain bread each day for lunch. Rivka works hard to find a job but can't afford a babysitter which would allow her to get work done. She wonders what will happen when they run out of money for bread.
--
11 families in Bnei Brak are suffering. Their stories are different. Two are orphaned kallahs, others are large families of children who are hungry, one is a man who had a stroke and is in a coma as detailed in the horrors above. Though their suffering is unique, they all have one thing in common: They went to mekubal and talmid chacham Rav Stern shlit"a in Bnei Brak, begging for help to save their lives. The Rav has hand-selected them for this campaign, together with his organization Beit Avraham. 
Beit Avraham helps many families each month.  However in the case of these 11 families, the stories were so horrible, he decided that something must be done urgently.
Each day of Chanukah, a special list with the names of the donors to campaign will be hand delivered to the Rav. With tears in his eyes and passion in his heart, he will storm the heavens. He will beg Hashem to save these 11 families, and he will pray for you, if you will heed his request and join him.
It is all buildling toward NOW, the next 24 hours, Zos Chanukah, a powerful day for prayer. The Rav will use this precious time to pray for you. Please join him in this important cause. 
Beit Avraham / Kupas Chazon Ish
Bnei Brak, Israel
DONATIONS ARE TAX DEDUCTIBLE
*Details have been changed from the stories above to preserve the families' anonymity.
See Rav Stern's personal statement below: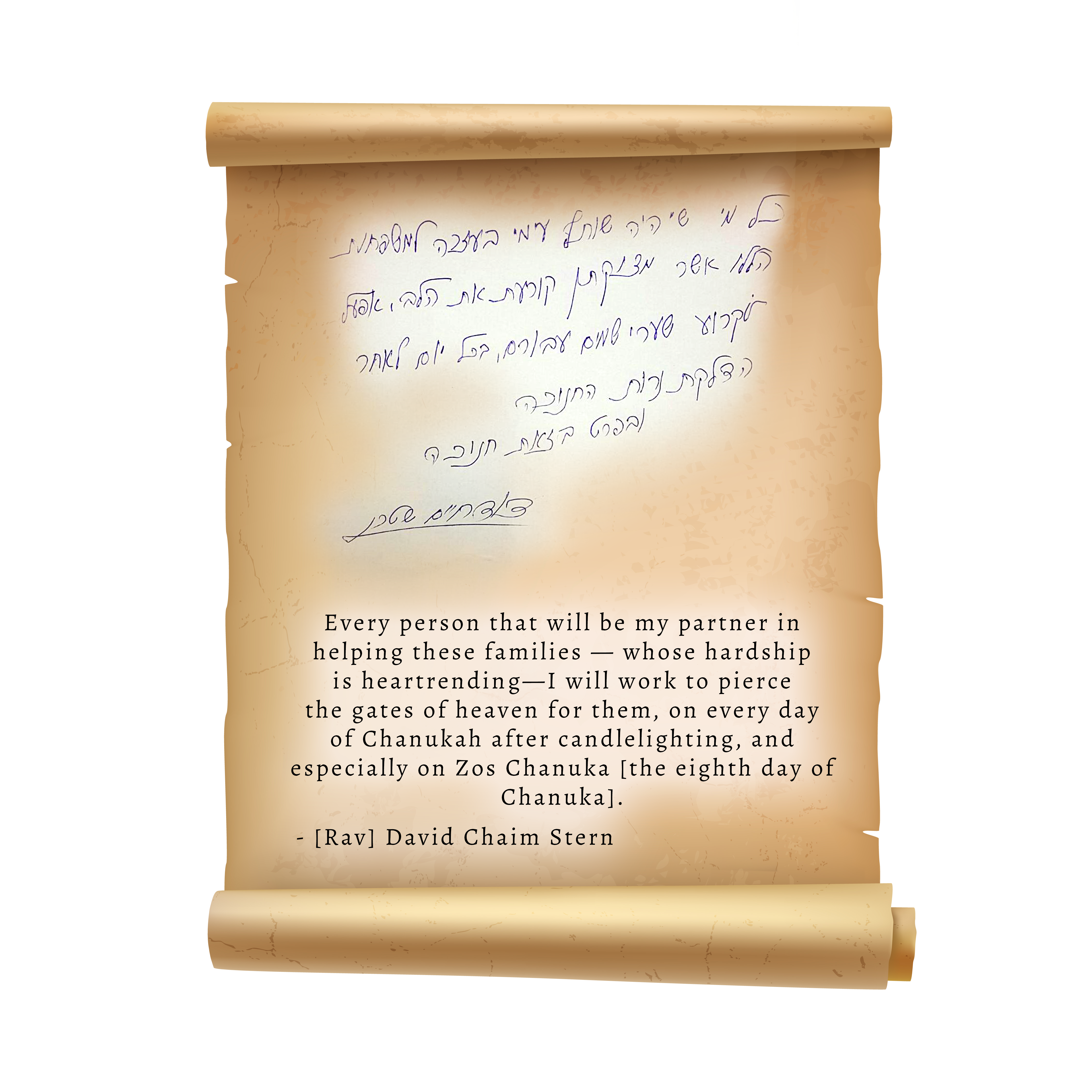 ;
$8,837 of $30,000 raised
raised by 267 people in 5 months
Donate
Created by
b avraham
December 2017
Contact this campaign
TELL OTHERS To GIVE!
Donations
Anonymous donated
3 months ago
₪100.00
Anonymous donated
4 months ago
£18.00
Anonymous donated
4 months ago
£4.00
Anonymous donated
4 months ago
$18.00
Anonymous donated
5 months ago
$50.00
Chad Weiner donated
5 months ago
$80.00
In honor of Jeffrey Markowitz, Judi Markowitz, Lindsay Weiner, Eli Weiner, Benyamin Weiner, Chad Weiner, Neil Weiner
Anonymous donated
5 months ago
$50.00
Ezra Nathan donated
5 months ago
$36.00
Natie Grossnass donated
5 months ago
$18.00
In honor of nesanel yechezkel ben soro lezivug
Anonymous donated
5 months ago
$18.00
In memory of Dovid Noach ben Shoshana Reizel
N Stein donated
5 months ago
$10.00
Anonymous donated
5 months ago
$36.00
Anonymous donated
5 months ago
$5.00
Anonymous donated
5 months ago
$55.00
Anonymous donated
5 months ago
$8.00
In memory of יעקב בן שמואל
Anonymous donated
5 months ago
$1.00
Anonymous donated
5 months ago
$50.00
Anonymous donated
5 months ago
$18.00
Moshe Feldmaus donated
5 months ago
$18.00
Anonymous donated
5 months ago
£18.00
David Gamzeh donated
5 months ago
$54.00
Gideon Benson donated
5 months ago
₪180.00
In honor of eliyaho ben rachael
Esther Lebovits donated
5 months ago
$54.00
In memory of Shmuel Yakov Ben chaim yehuda haleivi
Anonymous donated
5 months ago
$18.00
Anonymous donated
5 months ago
$18.00
In honor of Aaron Ben Sara, Miriam Bas Sara
Mordy Kahan donated
5 months ago
$18.00
M. David Graubard donated
5 months ago
$54.00
Yehudith Sandorfy donated
5 months ago
$54.00
Anonymous donated
5 months ago
$18.00
Anonymous donated
5 months ago
$36.00
Anonymous donated
5 months ago
$18.00
Shulamith Weingarden donated
5 months ago
$10.00
Anonymous donated
5 months ago
$60.00
Rochel Leah Shender donated
5 months ago
$54.00
In honor of The Rebbe
Michael Gamliel donated
5 months ago
$54.00
In honor of Esther Bat Ita
L. Moskowitz donated
5 months ago
$25.00
Anonymous donated
5 months ago
$25.00
Perl donated
5 months ago
$111.00
Baruch Malchy donated
5 months ago
$25.00
Anonymous donated
5 months ago
$36.00
In honor of Shalom Lazer ben Tzipora
Esther donated
5 months ago
$36.00
Joshua Dornbusch donated
5 months ago
$80.00
Yacov Strom donated
5 months ago
$18.00
Meir Malinsky donated
5 months ago
$5.00
Anonymous donated
5 months ago
£18.00
Anonymous donated
5 months ago
$5.00
Menachem Ash donated
5 months ago
₪50.00
In honor of Cana Rivka bat Razel
Anonymous donated
5 months ago
₪18.00
Anonymous donated
5 months ago
$18.00
Anonymous donated
5 months ago
$54.00
Anonymous donated
5 months ago
$18.00
In honor of Lior bat Michal Malka
Anonymous donated
5 months ago
$38.00
In honor of Gregson and Nelda San Jose and family
Adam donated
5 months ago
$36.00
In honor of Matitiyahu Shlomo Ben Elka Amatecha
Anonymous donated
5 months ago
$10.00
Anonymous donated
5 months ago
$1.00
Anonymous donated
5 months ago
$2.00
In honor of binjamin ben haya
Anonymous donated
5 months ago
$100.00
Anonymous donated
5 months ago
$10.00
In memory of R' Yitchok Mordechai ben Aharon Menashe
Anonymous donated
5 months ago
$5.00
Anonymous donated
5 months ago
$50.00
Michael donated
5 months ago
$18.00
MILLIE ADLER donated
5 months ago
$36.00
Aron Simon Worcman donated
5 months ago
$38.00
Anonymous donated
5 months ago
$15.00
In honor of Aryeh natan ben avraham/ Dovid Ben Raizel
Anonymous donated
5 months ago
$13.00
Anonymous donated
5 months ago
$50.00
Anonymous donated
5 months ago
$18.00
Meir Malinsky donated
5 months ago
$5.00
Anonymous donated
5 months ago
$50.00
Anonymous donated
5 months ago
$18.00
Anonymous donated
5 months ago
$10.00
Anonymous donated
5 months ago
$18.00
In honor of Hatzlacha for My Children
Anonymous donated
5 months ago
$36.00
Anonymous donated
5 months ago
$36.00
Anonymous donated
5 months ago
$5.00
In memory of Michoel ben Nuta
Anonymous donated
5 months ago
$15.00
Anonymous donated
5 months ago
$7.00
Anonymous donated
5 months ago
$5.00
In honor of חי מושקה בת יוכבד
Anonymous donated
5 months ago
$5.00
Anonymous donated
5 months ago
$10.00
Anonymous donated
5 months ago
$1.00
In memory of Aharon ben Avraham
Anonymous donated
5 months ago
$100.00
Joseph Oppenheimer donated
5 months ago
$50.00
Jahan Aghalar donated
5 months ago
$101.00
Anonymous donated
5 months ago
$10.00
Maria Belaev donated
5 months ago
$10.00
In memory of Вера Гавриловна Беляева, Григорий Маркович Раппапорт
Mindel Dorfman donated
5 months ago
$18.00
Robert Leichter donated
5 months ago
$36.00
Anonymous donated
5 months ago
$72.00
Gabriel Goldstein donated
5 months ago
$110.00
Anonymous donated
5 months ago
$26.00
Meir Malinsky donated
5 months ago
$10.00
Anonymous donated
5 months ago
$2.00
Anonymous donated
5 months ago
$8.00
In honor of My Parents
Anonymous donated
5 months ago
$100.00
Anonymous donated
5 months ago
$36.00
Anonymous donated
5 months ago
$36.00
Richard Hauptman donated
5 months ago
$10.00
In honor of my son
Anonymous donated
5 months ago
$18.00
Chaim Raitport donated
5 months ago
$25.00
Nachum Zlotnick donated
5 months ago
$10.00
Anonymous donated
5 months ago
$18.00
M Samuels donated
5 months ago
$36.00
Anonymous donated
5 months ago
$10.00
Anonymous donated
5 months ago
£18.00
Anonymous donated
5 months ago
$25.00
Simon Altmann donated
5 months ago
$10.00
Anonymous donated
5 months ago
$100.00
Anonymous donated
5 months ago
$10.00
B A SACKS donated
5 months ago
$10.00
In honor of Sheila SACKS
Anonymous donated
5 months ago
$18.00
Anonymous donated
5 months ago
$75.00
Anonymous donated
5 months ago
$10.00
Baila Pressman donated
5 months ago
$20.00
Yehuda Yankelove donated
5 months ago
$18.00
Anonymous donated
5 months ago
$54.00
Anonymous donated
5 months ago
$36.00
Anonymous donated
5 months ago
$18.00
Avraham Cohn donated
5 months ago
$18.00
Anonymous donated
5 months ago
$18.00
Anonymous donated
5 months ago
$36.00
In honor of Rivka bas Shimon
Anonymous donated
5 months ago
$101.00
Anonymous donated
5 months ago
$5.00
Bracha Gluck donated
5 months ago
$18.00
M donated
5 months ago
$150.00
In honor of Klal yisroel
Aaron Berger donated
5 months ago
$10.00
Daniel Blumenfeld donated
5 months ago
$5.00
Anonymous donated
5 months ago
$54.00
Beti Paimany donated
5 months ago
$18.00
Anonymous donated
5 months ago
$187.00
Anonymous donated
5 months ago
$3.00
David Weissman donated
5 months ago
$10.00
Anonymous donated
5 months ago
$50.00
Anonymous donated
5 months ago
$52.00
Anonymous donated
5 months ago
$18.00
Bill Mccaulley donated
5 months ago
$25.00
Anonymous donated
5 months ago
$50.00
Anonymous donated
5 months ago
$18.00
Dani Miller donated
5 months ago
$5.00
In honor of Aryeh natan ben avraham/ Dovid Ben Raizel
Mark Rosman donated
5 months ago
$54.00
In memory of Alexander Zishe Ben Rochel
Avrohom Dubin donated
5 months ago
$50.00
Mindy Mermelstein donated
5 months ago
$36.00
Anonymous donated
5 months ago
$70.00
In honor of Chana Leah bat Adina
Anonymous donated
5 months ago
$100.00
Jacob Maslow donated
5 months ago
$18.00
Anonymous donated
5 months ago
$36.00
Chana Drillman donated
5 months ago
$7.00
Anonymous donated
5 months ago
$5.00
Anonymous donated
5 months ago
£26.00
Hinda Schneider donated
5 months ago
$9.00
Jacob Ohayon donated
5 months ago
$54.00
Meir Malinsky donated
5 months ago
$5.00
Meir Malinsky donated
5 months ago
$5.00
Anonymous donated
5 months ago
$10.00
Anonymous donated
5 months ago
£5.00
Anonymous donated
5 months ago
$5.00
Anonymous donated
5 months ago
₪36.00
In memory of יחזקאל יודע בן שלמה זלמן ומאידך בת זאב
Anonymous donated
5 months ago
$180.00
Anonymous donated
5 months ago
$100.00
Rivkah Rokeach donated
5 months ago
$18.00
Jeffrey Silverman donated
5 months ago
$19.00
In honor of Malka bas Dovid v'Ester
Anonymous donated
5 months ago
€9.00
In honor of HaRav Gabriel Dayan Chlit"a veHaRav Avraham Taieb Chlit"a veHaRav Eliahou Zemou Chlit"a
Anonymous donated
5 months ago
$36.00
In memory of Chava bas Zalmen Haleivi
Anonymous donated
5 months ago
£20.00
Anonymous donated
5 months ago
$52.00
In honor of מרים בת חנה
Anonymous donated
5 months ago
$18.00
Anonymous donated
5 months ago
$5.00
Anonymous donated
5 months ago
$18.00
Anonymous donated
5 months ago
$200.00
Anonymous donated
5 months ago
$20.00
Anonymous donated
5 months ago
$18.00
Anonymous donated
5 months ago
$54.00
In memory of Baila bas Volf
Sarah Yunger donated
5 months ago
$20.00
In memory of Yaakov yitzchok Ben binyomin
Anonymous donated
5 months ago
£18.00
Anonymous donated
5 months ago
$8.00
Azriel Burnham donated
5 months ago
$36.00
Michelle Iczkovitz donated
5 months ago
$18.00
In honor of Yosroel yehuda
Anonymous donated
5 months ago
$18.00
Anonymous donated
5 months ago
$36.00
Neil Baim donated
5 months ago
$36.00
In memory of Moshe ben Zechariah Dov & Malka
Anonymous donated
5 months ago
$36.00
In honor of Leah Abela
Anonymous donated
5 months ago
$108.00
In memory of Harold Chalfin
Yaakov Frankforter donated
5 months ago
$100.00
Anonymous donated
5 months ago
$18.00
Anonymous donated
5 months ago
$18.00
Boris donated
5 months ago
$18.00
Anonymous donated
5 months ago
$18.00
Anonymous donated
5 months ago
$18.00
Daniel Engel donated
5 months ago
$36.00
Anonymous donated
5 months ago
$10.00
Michael Ryback donated
5 months ago
$26.00
In honor of Golda Rosa bas Rochel Rena
A K donated
5 months ago
$360.00
Sarah Newmark donated
5 months ago
$18.00
Anonymous donated
5 months ago
$5.00
Mendi donated
5 months ago
$36.00
In honor of Yossi Tevel
Anonymous donated
5 months ago
$36.00
Rena Loebenberg donated
5 months ago
$18.00
In honor of gittel laya bas perel
Ypsef Tzvi Fried donated
5 months ago
$26.00
Anonymous donated
5 months ago
£2.00
Carlebach donated
5 months ago
$8.00
Meir Ornstein donated
5 months ago
$36.00
Tz donated
5 months ago
$36.00
Anonymous donated
5 months ago
$180.00
Aryeh donated
5 months ago
$25.00
Tovah Pacht donated
5 months ago
$10.00
In memory of Avraham Yitzak ben azriel yehuda
Anonymous donated
5 months ago
$18.00
In memory of Miriam bat Mama
Anonymous donated
5 months ago
$5.00
Anonymous donated
5 months ago
$2.00
In honor of binjamin ben haya
Meir Malinsky donated
5 months ago
$5.00
Anonymous donated
5 months ago
$10.00
Jacob Berger donated
5 months ago
$54.00
In honor of Yaakov Shmuel ben Shaindel
Anonymous donated
5 months ago
$2.00
In honor of Harav Aharon Yehuda Leib ben Reb Noach Tzvi Zatzal
Howard Moskowitz donated
5 months ago
$36.00
In honor of Chanele
Anonymous donated
5 months ago
$3.00
In honor of Nesanel Moshe ben Harav David Chaim A"H
Anonymous donated
5 months ago
$18.00
In honor of RefuaShleima: Tuvia Avraham ben Chaya Zisha
Anonymous donated
5 months ago
£5.00
Anonymous donated
5 months ago
£18.00
Anonymous donated
5 months ago
£3.00
Anonymous donated
5 months ago
$100.00
Anonymous donated
5 months ago
$20.00
Anonymous donated
5 months ago
$100.00
Chaim Twerski donated
5 months ago
$18.00
Anonymous donated
5 months ago
$100.00
Sholom Schwalbe donated
5 months ago
£18.00
In honor of sholom eliyohu ben elchonon yisroel and miriam pear for parnossoh and shidduchim for son shammai and daughter shifra fruma
Aron donated
5 months ago
£15.00
Anonymous donated
5 months ago
$18.00
Roseva Sternberg donated
5 months ago
₪50.00
Anonymous donated
5 months ago
$18.00
Robert Wallace donated
5 months ago
$25.00
In honor of Juan Manuel Maldonado Mancillas
Philip Peltz donated
5 months ago
$18.00
Isser Lubeckk donated
5 months ago
€5.00
Anonymous donated
5 months ago
$72.00
Anonymous donated
5 months ago
$36.00
Anonymous donated
5 months ago
$100.00
Anonymous donated
5 months ago
$18.00
Anonymous donated
5 months ago
$26.00
Elie Elbaz donated
5 months ago
$36.00
Anonymous donated
5 months ago
$54.00
Anonymous donated
5 months ago
$18.00
Xxxxx Xxxxxxx donated
5 months ago
$18.00
David Edelstein donated
5 months ago
$36.00
Anonymous donated
5 months ago
$100.00
Anonymous donated
5 months ago
$36.00
In honor of moshe yaakov halevi ben braina
Anonymous donated
5 months ago
$10.00
In honor of mosha shahrier mike ben shoshana get more religiouswith his family
Deena Lehr donated
5 months ago
$80.00
In honor of Avraham Berish ben Malka Shulamiss
Anonymous donated
5 months ago
$30.00
Anonymous donated
5 months ago
$5.00
Anonymous donated
5 months ago
$18.00
In honor of Avraham Zisa Ben Leah Bracha
Anonymous donated
5 months ago
$5.00
Leah Wald donated
5 months ago
$20.00
In honor of Effie Davidyan
R. Weiser donated
5 months ago
$18.00
Anonymous donated
5 months ago
$18.00
Anonymous donated
5 months ago
$10.00
In memory of Shlomo Ben yitzchak ha Cohen
Anonymous donated
5 months ago
$18.00
In memory of Bryna bas Tsadok and Shlomo Michoel ben Mayer
Benjamin Ehrman donated
5 months ago
$10.00
Annonymous donated
5 months ago
$10.00
Anonymous donated
5 months ago
$18.00
In honor of לזכות צבי טוביה בן רבקה וז' חנה אסתר רויזא בת ייטל לרפואות וישועות והצלחה במשפטים וכ"ט
Anonymous donated
5 months ago
$50.00
Anonymous donated
5 months ago
$18.00
Anonymous donated
5 months ago
$18.00
Anonymous donated
5 months ago
$25.00
Anonymous donated
5 months ago
$18.00
Anonymous donated
5 months ago
$100.00
Anonymous donated
5 months ago
$18.00
Anonymous donated
5 months ago
$100.00
In honor of Chanoch Zundel Ben Chaya Devora
Avi Kohen donated
5 months ago
$5.00
Avi Kohen donated
5 months ago
$18.00
+ See more

Free Fundraising for Jewish Causes
0% Commission
Easy 3 Minute Set Up
24/6 Customer Service
Start Your Campaign Now
0% Commission
Easy 3 Minute Set Up
24/6 Customer Service